This article will explain how to customize review questions to build a custom question bank. Once your questions are created we will show you how to link them to your customized review types to create multiple versions of reviews.
Video Tutorial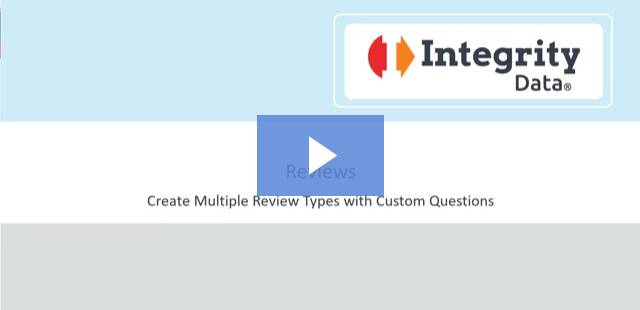 Integrity Data_Reviews Create Types and Questions – integrity-data
Creating a Review Question Bank
Select Review Question from the dropdown menu.
You now have the option of using an existing question, editing an existing question, and/or creating a new question.
To edit an existing question, click on the title of the question you want to change.
The question will open and you can make any necessary changes.
If your intent is for the employee to complete the answer to the question, make sure you don't select Read Only for Employee, or the employee will not be able to complete the question.
Remember to click Save Changes or Save & Next Record before you close the window.
To create a new question, click the 'New' button.
The New Question window will open. Select the question type, the sequence number for the order that you want the question to appear in, add the question title and the question text. By default, the question will be set as active.
Click Save 'Changes' or 'Save & Next Record' to continue.
Adding Questions to Review Types
When you have added all your questions, you are ready to set up your review. Click on the Integrity Data HRP logo in the upper left corner to navigate back to your HR Dashboard.
Click the Company tile on your HR Dashboard.
Select Review from the dropdown menu.
The New Record window will open.  Complete the highlighted information below. Select Auto schedule Yes, if you want this to be an automatic review type at a specific time/date during the year, if not, leave it set to no. By default, the review type will be marked Active.
If you have company documents to be attached to the question, click on 'Yes' and choose the document that you added to your company documents from the Select/Change Company Documents dropdown list.  You will mark 'No' for Custom Documents unless you requested during deployment that a Custom Document be created and added for this question type or others. Custom Documents can be added at any time for an additional fee.
Save changes and then click the title of the Review Type you were working on to re-open it. Now you will be able to link the questions.
Click on the dropdown menu to select the question you want and click on 'Link Question.'  Complete this for each question that you want to be attached to the review.
As you link the question, you will see it appear in the Linked Questions box.
Click on 'Save Changes' or 'Save & Next Record' to complete your Review Type.